Three Mexican folktales come to life

September 4-15

when Mesner Puppet Theater of Kansas City, Missouri, brings their bilingual production

Animal Amigos

to the

Center for Puppetry Arts
Families are invited to gather 'round the Tree of Life for the retelling of these delightful tales. The performance includes the story of Medio Pollito, the little half-chick born with one leg, one wing, one eye, and half of a beak.
In addition, guests can watch as a trickster rabbit outsmarts a hungry coyote again and again. All of these classic stories portray the themes of friendship and overcoming adversity, making them perfect for young audiences and parents alike.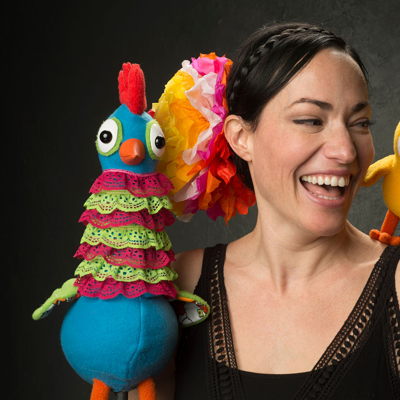 "Each of the stories is like a favorite fable with important life lessons learned through thoughtful action…This particular group of stories bring a south-of-the-border flavor that is brilliantly colorful, tremendously fun and un poco picante," said Paul Bolton of Broadway World.
Mesner Puppet Theater has been performing nationally and internationally for more than 30 years.

Animal Amigos

features glove, hand-and-rod, and rod puppets and is presented in a combination of English and Spanish.
WHAT:
Animal Amigos
by Mesner Puppet Theater, Kansas City, Mo.
Recommended for

ages 4 and up
WHEN:
September 4-15

Show times are as follows:
Wednesday-Friday: 10 a.m. and 11:30 a.m.
Saturday: 11 a.m., 1 p.m. and 3 p.m.
Sunday: 1 p.m. and 3 p.m.
WHERE:



Center for Puppetry Arts


1404 Spring Street NW
Atlanta, GA 30309


Animal Amigos

is presented in the Downstairs Theater HOW:

All-inclusive tickets are

$9.75 (Members)

and

$19.50 (nonmembers)

and include entrance to the Create-A Puppet Workshop™, where guests can make, decorate and perform with their own

Ridiculous Rabbit Rod Puppet

, as well as admission to the

Worlds of Puppetry

Museum

, featuring a global gallery and the largest collection of Jim Henson puppets in the world.